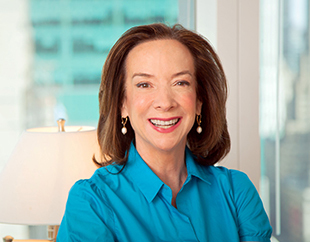 Mary
E.
Mulligan
New York
7 Times Square
New York, NY 10036-6516
Mary Mulligan is co-head of Friedman Kaplan's white collar criminal defense practice. Over the course of her more than 30-year career, she has handled matters involving virtually all aspects of white collar crime and internal investigations. She has been described by the New York Law Journal as a "heavy hitter" in the white collar defense bar and is renowned for her work handling high-profile cases for clients and significant, confidential matters resolved behind the scenes which are not publicized.
Today, she represents clients in the financial services and other industries in connection with allegations of money laundering, insider trading, Foreign Corrupt Practices Act violations, criminal antitrust violations, securities fraud, tax fraud, off-label marketing, False Claim Act violations, mail and wire fraud, Federal Election Campaign Act violations, public corruption, healthcare fraud, and other matters. She has also served as an integrity counsel to a hedge fund and as a monitor in the construction industry, and handles a variety of matters involving institutions of higher education, including advising on governance, intellectual property, Title IX issues, allegations of sexual assault and abuse, conducting internal investigations, and responding to local, state, and federal inquiries.
Mary previously served as an Assistant United States Attorney for the Southern District of New York, directing investigations and prosecutions of fraud, public corruption, and financial crimes.
Because of the nature of Mary's work, many of her most successful matters have not resulted in public charges and remain confidential.
Representative Matters
Representation of the former Chief Financial Officer of Archegos Capital Management in a prosecution by the U.S. Attorney's Office for the Southern District of New York alleging a RICO conspiracy, securities fraud, and mail and wire fraud relating to the family office's 2021 collapse. Mary and the firm also represent the client in related SEC and CFTC enforcement actions and a civil case brought by a former Archegos employee.

Representation of the former longtime Chief Financial Officer of the Trump Organization in the highly publicized New York County District Attorney's investigation and prosecution of the Trump Corporation, Trump Payroll Corporation, and our client for tax violations. Mary represented the client throughout lengthy and complicated investigations conducted by the DANY and at every stage of the proceedings, notably achieving a unique plea deal and greatly reduced sentence for her client in exchange for his truthful testimony at trial that resulted in the conviction of the Trump Organization in December 2022.

Represented a UK national in connection with a large and long-running investigation into whether individuals working for Greek and British medical device companies had been involved in a scheme to bribe orthopedic surgeons in Greece to use products manufactured by DePuy International, a Johnson & Johnson subsidiary. After a lengthy trial spanning almost three years and including the testimony of 73 witnesses, the client was acquitted of all charges. The representation was nominated by Global Investigations Review for its 2019 "Most Important Case of the Year" award.

Representation of a prominent individual in connection with federal investigations and Congressional inquiries relating to conduct during the U.S. Presidential election in 2016.
Representation of a number of institutions in connection with internal investigations related to allegations of sexual harassment and misconduct.
Represented numerous investment advisors, analysts, portfolio managers, and senior executives at hedge funds in various high-profile insider trading and securities fraud investigations and prosecutions brought by the U.S. Attorney for the Southern District of New York and the Securities and Exchange Commission.
Represented Chuck Blazer, the founder of organized American soccer, relating to FIFA, the international soccer organization, in connection with investigations by the FBI, DOJ, and IRS.
Regular representation of institutions of higher education in connection with non-public matters, internal investigations, and responding to confidential state and federal inquiries.
Represented the former first lady of an African nation in a significant Foreign Corrupt Practices Act investigation being conducted by the U.S. Department of Justice. The case involved allegations of money laundering and violations of the Travel Act (18 U.S.C. § 1952) in connection with the award of a mining concession valued at several billion dollars.
Represented a former senior executive of a major financial institution in connection with a publicly-reported money laundering investigation conducted by the DOJ, the U.S. Department of the Treasury, and state entities into the client's former employer. Mary's client was not charged.
Representation of witnesses in various high-profile investigations conducted by the U.S. Attorney's Office for the Southern District of New York, including in connection with alleged public corruption, art fraud and theft, OFAC violations, and tax-related matters.
Represented a prominent university and the former dean of its school of architecture in defense of civil litigation relating to a degree program the plaintiff allegedly helped to develop between the school and an international university.
Mary and the firm conducted FCPA training for the Board of Directors of an Ivy League university.
Represented a senior executive in connection with a confidential investigation into his alleged theft of trade secrets and intellectual property from his previous employer.
Represented the former CEO of the Montenegro subsidiary of Magyar Telekom, a Hungarian telecommunications company, in connection with a more than four-year investigation and enforcement action by the U.S. Department of Justice and the SEC into alleged FCPA violations pertaining to the company's operations in Macedonia and Montenegro.
Outside the Office
Mary is a member of the Board of Directors of the Legal Action Center, a non-profit organization whose mission is to fight discrimination against people with histories of addiction, HIV/AIDS, or criminal records, and to advocate for sound public policies in these areas. From 2009 to 2012, she served as a commissioner of New York City's Civilian Complaint Review Board, an independent agency which handles complaints of alleged police misconduct.
Mary was a lecturer in law at the University of Pennsylvania Law School, where, in conjunction with The Honorable Cheryl Ann Krause of the United States Court of Appeals for the Third Circuit, she taught a seminar entitled "Crossing the Line: White Collar Crime and Securities Fraud."
Fast Facts
Practice Areas
Education
New York University School of Law, J.D., cum laude (1989)
Vanderbilt University, B.A., magna cum laude (1983)
Bar Admissions
State of New York
U.S. District Courts for the Southern and Eastern Districts of New York
U.S. Courts of Appeals for the Second and Third Circuits
U.S. Supreme Court
Clerkships
The Honorable Henry A. Politz, U.S. Court of Appeals for the Fifth Circuit
Honors and Awards
Chambers USA, Band 1, New York, Litigation: White-Collar Crime & Government Investigations, 2023; Band 2, New York, Litigation: White-Collar Crime & Government Investigations, 2021-2022; Band 3, New York, Litigation: White-Collar Crime & Government Investigations, 2019-2020; Band 4, New York, Litigation: White-Collar Crime & Government Investigations, 2016-2018
New York Super Lawyers List, 2012-present
Order of the Coif, New York University School of Law
Libel Defense Resource Center Fellowship, New York University School of Law
American Jurisprudence Award in Administrative Law, New York University School of Law
Moot Court Advocacy Award, New York University School of Law
News + Insights
Events