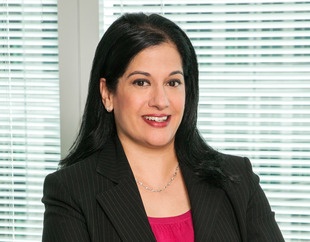 Mala
Ahuja
Harker
New York
7 Times Square
New York, NY 10036-6516
Mala Ahuja Harker represents individuals and corporations in the financial services, pharmaceutical, and other industries in connection with white collar, securities, employment, and complex commercial litigation matters. She has particular strength in matters with both regulatory enforcement and civil litigation elements and significant experience with cross-border matters. In addition to her active white collar and litigation practice, Mala is also a member of the firm's Management Committee.
Prior to rejoining Friedman Kaplan, where she was formerly a partner, Mala served as an Assistant United States Attorney for the District of New Jersey from 2011 through 2017. In this role, Mala investigated and prosecuted cases involving sophisticated financial frauds, insider trading, securities violations, mortgage and bank fraud, tax evasion, money laundering, public corruption, identity theft and cybercrime, as well as violent crime and drug offenses, among others.
Mala's work for the U.S. Attorney's office included a long term investigation involving corruption at the Newark Watershed Conservation & Development Corporation, which resulted in the conviction of several high-ranking employees and outside contractors of the agency.
Mala was selected to Chambers & Partners' list of ranked lawyers in the Litigation: White-Collar Crime & Government Investigations in New Jersey category of the 2021, 2022, and 2023 Chambers USA guides. A description of the selection methodology can be found here. (No aspect of this advertisement has been approved by the Supreme Court of New Jersey.)
Representative Matters
Representation of WeWork co-founder and former CEO and Chairman Adam Neumann and affiliated company We Holdings LLC in a Delaware Chancery Court action, which was consolidated with an action commenced by a Special Committee of WeWork's Board of Directors, challenging the decision of WeWork's majority institutional shareholder to terminate a multibillion-dollar tender offer.
Representation of a subsidiary of a Japanese multinational conglomerate in connection with an unauthorized transfer of 16.8 billion Japanese yen (over $150 million) from an account of an overseas subsidiary, including an internal cyber investigation into the theft of the funds (which had been converted to bitcoin), coordination of criminal investigations in the United States and Japan, and the successful recovery through civil forfeiture proceedings of several million dollars more than the company's original loss due to the well-timed interlocutory sale of the seized bitcoin.
Representation of a prominent technology company in responding to a series of regulatory inquiries (including by the Federal Trade Commission, the European Commission, and a coalition of various states' Attorneys General) and subpoenas from civil litigants concerning the retrieval of user data from, and alleged anticompetitive conduct by, another prominent platform.
Representation of GSO Capital Partners in litigation challenging its refinancing of debt issued by New Jersey-based home builder Hovnanian Enterprises, Inc.
Representation of the NWHI Litigation Trust that was established in the bankruptcy to pursue claims relating to the 2014 transaction, in which Nine West's predecessor was purchased, certain of its businesses were sold off, and its shareholders received more than $1 billion for their shares.
Representation of Wilmington Savings Fund Society, FSB as successor indenture trustee for $250 million of unsecured notes of Nine West Holdings, Inc. in connection with Nine West's bankruptcy and potential claims arising out of the company's 2014 leveraged buyout and asset sales. Co-lead counsel in a contested bankruptcy confirmation hearing that led to a revised plan of reorganization that provided a greater recovery to noteholders and other unsecured creditors.
Representation of an S&P 500 financial institution in an internal investigation and settlement of claims made by a former employee alleging violations of the whistleblower protections under the Sarbanes-Oxley Act and New York's whistleblower protection statute.
Representation of a major financial institution in various civil and criminal investigations at the federal, state, and local levels.
Representation of the Chief Financial Officer of an international media company in connection with an internal investigation.
Representation of a biotech company in connection with regulatory and criminal investigation matters.
Representation of an inter-dealer brokerage firm in a three-week arbitration related to claims of unfair competition and raiding by a rival firm.
Representation of a hedge fund in a two-week arbitration involving contract and tort claims against a departing portfolio manager.
Representation of a major pharmaceutical manufacturer in a multimillion-dollar breach of contract action by a supplier.
Representation of a major operator of refrigerated storage centers in an action in New York state court seeking to enjoin a failed bidder from utilizing confidential information gained in the auction process pursuant to an NDA in efforts to purchase facilities from landlords of the client's existing warehouse locations.
Representation of a senior executive of a generic drug manufacturer in connection with a criminal investigation and related civil shareholder actions.
Prior to her time with the District of New Jersey and with Friedman Kaplan, Mala was an associate at Paul, Weiss, Rifkind, Wharton and Garrison LLP.
Outside the Office
Mala is a member of the Federal Bar Council, the Women's White Collar Defense Association, the New York City Bar Association and its Women in the Legal Profession: White Collar Crime Subcommittee, the South Asian Bar Association of New York, and the National Association of Women Lawyers. She is Friedman Kaplan's representative in the Leadership Council on Legal Diversity and made a public pledge detailing her personal and organizational commitment to diversity, equity, and inclusion though its "Leaders at the Front" initiative.
Mala serves on the Board of Trustees of Volunteer Lawyers for Justice, which serves economically-disadvantaged clients and communities, and volunteers with Lasagna Love, an organization enabling volunteer chefs to provide homemade meals to families in need. Mala and her husband have endowed scholarships for diverse students at West Virginia University and Fairmont State University, and endowed a scholarship at Southeast Missouri State University in honor of Dr. Mangho and Mevi Ahuja.
Fast Facts
Practice Areas
Education
University of Pennsylvania Law School, J.D. (1999)
Washington University, St. Louis, B.A (1996)
Bar Admissions
State of New York
State of Virginia
U.S. District Courts for the Southern and Eastern Districts of New York
U.S. Courts of Appeals for the Third and Ninth Circuits
Honors and Awards
Crain's New York Business, Notable Diverse Leaders in Law list, 2022
Law Review and Publications
Winner of Best Brief, Edwin R. Keedy Cup Moot Court Competition
News + Insights
Events