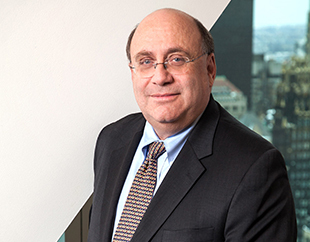 Eric
Corngold
New York
7 Times Square
New York, NY 10036-6516
Eric Corngold, co-head of Friedman Kaplan's white collar department, is well known for his work in white collar criminal defense and investigations. Prior to joining Friedman Kaplan, Eric built a tremendous reputation as a public prosecutor in New York. Today, he puts the insight into the enforcement perspective that he gained through twenty-five years of public service to work representing businesses, their executives, and their employees during federal and state criminal investigations, as well as in regulatory matters involving the Securities and Exchange Commission and other federal and state government agencies. He also conducts internal investigations for corporations and other institutions on behalf of officers, boards of directors, and audit committees.
Because of the nature of Eric's work, many of his most successful matters have not resulted in public charges and remain confidential.
Representative Matters
Representation of Chuck Blazer, the founder of organized American soccer, relating to FIFA, the international soccer organization, in connection with investigations by the FBI, DOJ, and IRS.
Representation of the New Jersey Economic Development Authority in connection with the year-long task force investigation being conducted by Governor Phil Murphy as well as an investigation by the New Jersey Attorney General.

Representation of a multinational food corporation in connection with an ongoing investigation by the New York Attorney General.

Representation of the Board of Directors of a company that is the subject of a multilayer investigation being conducted by the DOJ and the SEC.

Representation of the Executive Director of the New York Port Authority as a major witness in the high-profile "Bridgegate" scandal, a four-day traffic shutdown that caused colossal delays at the George Washington Bridge.

Eric and the firm conducted an internal investigation on behalf of the Audit Committee of a NYSE-listed consumer financial services company in connection with the Committee's review of the company's previously issued financial statements.

Representation of the world's largest Native American tobacco manufacturer in connection with ongoing litigation brought by the New York Attorney General in federal court for various alleged statutory violations. This matter addresses important, unsettled constitutional issues regarding Native American sovereignty.

Representation of a major biopharmaceutical company in connection with a large criminal and civil investigation being conducted by the U.S. Attorney for the Eastern District of New York into the company's marketing of an anemia drug.
Eric served as New York State's Executive Deputy Attorney General for Economic Justice from 2007 to 2009, acting as the principal advisor to the New York Attorney General on litigation and policy concerning financial markets, antitrust matters, corporate and consumer fraud, and housing. In this role, he led broad-ranging initiatives including the office's auction rate securities investigation, which resulted in settlements with eleven major international financial institutions, returning more than $51 billion to investors and resulting in over $597 million in fines, and the office's civil action against Intel Corporation, the largest government antitrust case brought in the last decade.
Prior to his time in the New York Attorney General's Office, Eric was an Assistant United States Attorney in the Eastern District of New York for more than a decade, where he served as the office's Chief Assistant United States Attorney from 2005 to 2007, and the Chief of the office's Business and Securities Frauds Unit from 1999 to 2005.
Outside the Office
Eric frequently lectures on white collar crime, securities law, and criminal procedure topics, and is currently an adjunct Professor of Law at St. John's University School of Law, where he teaches that school's course on White Collar Crime. Eric is the Chairman of the New York State University Construction Fund and a member of the Board of Trustees of SUNY, New York State's network of public universities, where he serves as the chair of the Board's Academic Medical Centers/Hospitals Committee and as a member of the Board's Audit Committee. Eric was twice nominated (in 2016 and 2017) to serve on New York's Court of Appeals.
Fast Facts
Practice Areas
FK Focus
Education
Yale Law School, J.D. (1984)
Swarthmore College, B.A., Phi Beta Kappa (1980)
Bar Admissions
State of New York
U.S. District Courts for the Southern, Eastern, and Western Districts of New York
U.S. Court of Appeals for the Second Circuit
Clerkships
The Honorable Charles P. Sifton, U.S. District Court for the Eastern District of New York
Honors and Awards
Chambers USA, Band 2, New York, Litigation: White-Collar Crime & Government Investigations, 2021-present; Band 3, New York, Litigation: White-Collar Crime & Government Investigations, 2018-2020; Band 4, New York, Litigation: White-Collar Crime & Government Investigations, 2016-17
New York City Bar Association, Henry L. Stimson Medal for outstanding contribution to the Office of the U.S. Attorney, 2003
The Best Lawyers in America® New York List, Criminal Defense: White Collar, 2023-24
New York Super Lawyers List, 2010-present
Law Review and Publications
Senior Editor, Yale Law Journal
News + Insights
Events