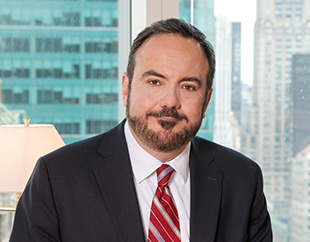 Lance
J.
Gotko
New York
7 Times Square
New York, NY 10036-6516
Lance Gotko is head of the firm's employment practice group and represents companies and individuals in the financial services and other industries in connection with a wide variety of employment and complex commercial litigation matters, including in jury and non-jury trials and arbitrations. He provides advice and representation in disputes related to employment and separation agreements, group moves, compensation, misappropriation of trade secrets, breaches of non-compete agreements and fiduciary duty, and discrimination, and provides advice related to compliance with federal, state, and local employment laws.
Lance also represents clients across a broad array of industries in connection with claims of undue influence in connection with lifetime transfers of wealth and testamentary instruments, allegations of securities fraud, non-payment of investment banking fees, business conspiracy, false arrest, disputes involving business partnership breakups, RICO claims, and other issues.
Representative Matters
Representation of a high-level executive of Merrill Lynch in connection with an arbitration before FINRA pertaining to the terms of his departure from the bank. Following a multi-day trial, the matter resulted in a multimillion-dollar award.
Representation of an investor in Bear Stearns at trial before FINRA alleging an over $20 million securities fraud against J.P. Morgan in its capacity as successor to Bear Stearns.
At the request of their new employer, Lance and the firm represented former senior employees of UBS in defense of allegations by UBS of misappropriation of trade secrets and source code, breach of fiduciary duty, and violation of garden leave. The firm represented the executives before FINRA in two plenary arbitration hearings in which the panel denied all relief sought by UBS, as well as in a subsequent investigation.
Representation of the former CEO of a subject company in the e-commerce space in defense of securities fraud claims in a class action litigation. The matter settled favorably for the firm's client following a successful motion to dismiss.
At the request of their new employer, Lance and the firm represented three top executives of a major insurance company, who resigned from their previous employer, also a large insurance company. The former employer alleged that the move was a "raid" and signifies a breach of the executives' fiduciary duties.
Representation of an investment fund specializing in real estate in connection with advice concerning compliance with rules and laws pertaining to a post-merger reduction in workforce.
Representation of an international law firm in defense of claims including breach of fiduciary duty, fraud, malpractice, unjust enrichment, and breach of contract filed by a former client of the firm, as well as related claims of breach of fiduciary duty and fraud brought by a former firm partner.
Representation of a high-level publishing executive in connection with an SEC investigation and lawsuit alleging that he committed securities violations related to the improper booking of revenue. This matter successfully settled on the eve of trial.
Representation of a high-level former executive of American Airlines following his move to Delta in defense of claims by American that he had stolen trade secrets.
Lance and the firm provide employment advice to multiple companies on an ongoing basis in connection with a wide variety of issues, including discrimination, sexual harassment, separation agreements, resolution of employee claims, and others.
Prior to joining Friedman Kaplan, Lance practiced at Sullivan & Cromwell LLP.
Outside the Office
Lance is a mediator for the New York Supreme Court Commercial Division in New York County, and for five years served as an arbitrator for the Civil Court of the City of New York. From 2006 to 2012 he served as a member of the Advisory Committee for the Commercial Division (New York County), which helps bring issues and ideas to the attention of the justices of the New York Supreme Court's Commercial Division. From 2002 to 2005, Lance served as a member of the Committee on Courts of Superior Jurisdiction of the New York City Bar Association. He is a member of the Federal Bar Council on its Employment Litigation Committee.
Fast Facts
Practice Areas
Education
Brooklyn Law School, J.D., magna cum laude (1988)
Michigan State University, B.A. (1985)
Bar Admissions
State of New York
U.S. District Courts for the Southern, Eastern, and Northern Districts of New York
U.S. Courts of Appeals for the Third and Ninth Circuits
U.S. Supreme Court
Clerkships
The Honorable Morton I. Greenberg, U.S. Court of Appeals for the Third Circuit
The Honorable John R. Bartels, U.S. District Court for the Eastern District of New York
Honors and Awards
New York Super Lawyers List, 2012-present
The Best Lawyers in America® New York List, Litigation – Labor and Employment, 2024
News + Insights
Events