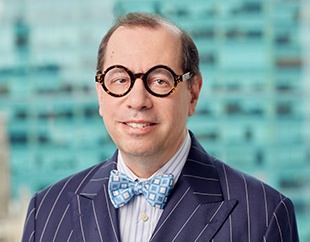 Joel
I.
Frank
New York
7 Times Square
New York, NY 10036-6516
Joel Frank has a broad-ranging transactional practice. He has an extensive background in securities, acquisitions, finance, complex commercial agreements, intellectual property, employment, and regulatory matters. He joined Friedman Kaplan in 2018 to focus on securities matters.
Representative Matters
Representation of issuers in initial and secondary public offerings of securities, including drafting of registration statements, due diligence, stock exchange listing applications and general corporate clean-up and organization.
Representation of underwriters in initial and secondary public offerings of securities, including preparation of underwriting and syndicate documents, state and NASD registrations, due diligence and participation in drafting of registration statements.
Representation of issuers in private offerings of securities, including the organization of and preparation of documents necessary for the sale of limited liability company interests, including state blue sky registrations.
Representation of buyers and sellers in stock and asset acquisitions, including mergers of public companies, leveraged buy-outs and tender offers.
General securities representation of Telerate, Viatel and other public companies, including preparation of periodic disclosure documents, proxy statements and insider reporting.
Representation of Telerate and law firm clients in establishment of revolving credit facilities as well as other financing matters.
Representation of issuers in self-tender offer and recapitalization.
Prior to joining Friedman Kaplan, Joel practiced as a partner at Wilk Auslander LLP and Hartman and Craven LLP. Prior to this, he served as General Counsel for Viatel, Inc. and Telerate, Inc.
Outside the Office
Joel is dedicated to helping entrepreneurs navigate various start-up, financing, and corporate legal matters for their businesses. He serves as a Field Class Mentor for an entrepreneur course at Harvard Business School and provides pro bono counsel to student business incubator Fordham Foundry and Element 46, a start-up incubator established by the Westchester County Executive's Office.
Joel is an active member of the New York legal and non-profit communities. He is a member of the Committee on Sports Law and the Committee on Emerging Companies of the Association of the Bar of the City of New York. He serves as pro bono counsel to The Architectural Art Reclamation Fund, a non-profit which promotes the reclamation of architectural and ornamental objects for residential and commercial use, and to A Caring Hand, a non-profit dedicated to serving grieving children, teens, and caregivers. He was formerly a member of the Board of Directors and pro bono counsel to Greyston Bakery Inc., part of an integrated network of not-for-profit and for-profit companies providing jobs, workforce development, housing, youth services, and health care for low-income individuals and families.
Fast Facts
Practice Areas
Education
Columbia Law School, J.D. (1981)
New York University, B.A., magna cum laude, Phi Beta Kappa (1978)
Bar Admissions
State of New York
Honors and Awards
Harlan Fiske Stone Scholar
News + Insights