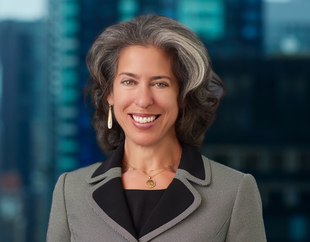 Bonnie
M.
Baker
New York
7 Times Square
New York, NY 10036-6516
Bonnie Baker is an experienced litigator and white collar criminal defense attorney who represents individuals and companies in actions arising under the securities laws, in complex financial and tort litigations, and in regulatory and criminal investigations involving allegations of money laundering, insider trading, mail and wire fraud, Foreign Corrupt Practices Act violations, sexual abuse and misconduct, defamation, and other white collar matters. She also counsels clients on pre-litigation, litigation avoidance, and compliance matters.
Because of the nature of Bonnie's work, many of her most successful matters have not resulted in public charges and remain confidential.
Representative Matters
Represented a UK national in connection with a large and long-running investigation into whether individuals working for Greek and British medical device companies had been involved in a scheme to bribe orthopedic surgeons in Greece to use products manufactured by DePuy International, a Johnson & Johnson subsidiary. After a lengthy trial spanning almost three years and including the testimony of 73 witnesses, the client was acquitted of all charges. The representation was nominated by Global Investigations Review for its 2019 "Most Important Case of the Year" award.

Representation of Wells Fargo & Co. and Wachovia in connection with a multibillion-dollar dispute with Citigroup arising out of the acquisition of Wachovia by Wells Fargo during the financial crisis.
Representation of a member of one of the world's wealthiest families in litigation and a six-month trial involving a will contest and claims of undue influence. The firm continues to handle this matter in connection with two appeals before the Appellate Division of the New Jersey Superior Court.
Representation of a U.S.-based investment fund against 48 subsidiaries of the bankrupt Mexican glass maker Vitro, S.A.B. de C.V. in a complex case involving non-payment of guarantees on the parent corporation's bonds. Despite the companies' attempt to circumvent their duties and argue that the U.S. courts should extend comity to the Mexican bankruptcy proceeding, the firm prevailed both on summary judgment in New York state court, as well as won an affirmance on appeal. Ultimately, the client reached a favorable global settlement of its claims.
Representation of Delphi Corporation in bankruptcy litigation against a group of investment banks and hedge funds alleging breach of a $2.55 billion equity financing commitment.
Representation of an advertising agency in connection with litigation with its former CEO.
Prior to joining Friedman Kaplan, Bonnie practiced at Orans, Elsen & Lupert LLP.
Outside the Office
Bonnie is a member of the Women's White Collar Defense Association. She is also a member of the Ethics Board for the Village of Rye Brook, New York and a member of the Board of Trustees of Congregation KTI. She has previously served as an Acting Assistant Professor of Lawyering at New York University School of Law, an Adjunct Professor at The New School, and an Executive Editor at Brownstone Publishers, Inc., where she researched, wrote, and edited articles relating to school district compliance with the No Child Left Behind Act.
Fast Facts
Practice Areas
Education
Yale Law School, J.D. (1995)
University of Pennsylvania, B.A., summa cum laude, Phi Beta Kappa (1992)
Bar Admissions
State of New York
State of Connecticut
U.S. Supreme Court
Clerkships
The Honorable Richard Owen, U.S. District Court for the Southern District of New York
Honors and Awards
Chambers USA, Band 5, New York, Litigation: White-Collar Crime & Government Investigations, 2022 and 2023
Caskey Prize for Outstanding Presentation of a Case, Barristers' Union Mock Trial Competition
Benjamin Franklin Scholar, University of Pennsylvania
Law Review and Publications
Edit Team Member, Yale Journal on Regulation
Edit Team Member, Yale Journal of Law and Humanities
Determining the Mandatory Title I, Part A Set-Aside for Homeless Children, The Beam, NAEHCY (April 2006)
Encouraging Strategic Decision-Making, 17 The Second Draft 2, Legal Writing Institute (July 2003)
Teaching Students to Persuade: Creating Facts, 16 The Second Draft 1, Legal Writing Institute (December 2001)
News + Insights