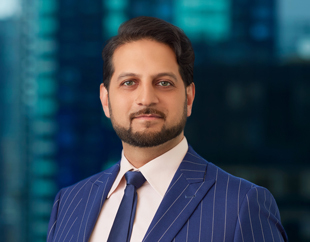 Anil
K.
Vassanji
New York
7 Times Square
New York, NY 10036-6516
Anil Vassanji represents corporations and individuals in the financial services, real estate, and other industries in connection with a wide variety of complex commercial disputes, appeals, and in white collar criminal defense matters. Anil also has a substantial pro bono practice and serves as co-lead attorney in coordinating and strengthening the firm's overall pro bono efforts.
Representative Matters
Representation of WeWork co-founder and former CEO and Chairman Adam Neumann and affiliated company We Holdings LLC in a Delaware Chancery Court action, which was consolidated with an action commenced by a Special Committee of WeWork's Board of Directors, challenging the decision of WeWork's majority institutional shareholder to terminate a multibillion dollar tender offer.
Representation of Health and Hospital Corporation Marion County in a closely watched appeal before the U.S. Supreme Court, in Health and Hospital Corp. of Marion Cnty. et al. v. Talevski, concerning the Federal Nursing Home Reform Act and the applicability of private enforcement rights under Section 1983 of the Civil Rights Act.
Representation of the former Chief Financial Officer of Archegos Capital Management in a prosecution by the U.S. Attorney's Office for the Southern District of New York alleging a RICO conspiracy, securities fraud, and mail and wire fraud relating to the family office's 2021 collapse. Anil and the firm also represent the client in related SEC and CFTC enforcement actions and a civil case brought by a former Archegos employee.
Representation, including through a week-long trial, of a CDO collateral manager and recovery service provider in litigation brought by a CDO trustee.
Representation of real estate investors before the N.Y. Court of Appeals in a dispute over a luxury high rise development in New York concerning federal preemption of state tort law claims.
Obtained a major victory overturning the problematic "passport rule" that blocked those without valid passports from applying to the U.S. Diversity Immigrant Visa Program, which affected millions of aspiring immigrants across the world, with the most dramatic impact on those from Africa.
Representation of a class of tenants before the N.Y. Court of Appeals concerning rent stabilization.

Submission of amicus briefs to the D.C. Circuit and U.S. Supreme Court, in support of Guantanamo detainees' habeas corpus challenges to their ongoing detention, on behalf of an expert in due process and civil commitment standards.

Pro bono representation of an individual placed on the FBI's No Fly List.
Prior to joining Friedman Kaplan, Anil was an associate at Sullivan & Cromwell LLP. During his time there, he represented a wide range of corporate and individual clients on an array of civil and criminal disputes, including securities, environmental, class action, intellectual property, antitrust, appeals, cybersecurity, and regulatory matters.
Outside the Office
Anil is a member of Law360's Access to Justice Editorial Advisory Board and serves on the Executive Committee of the Board of Directors of the New York Civil Liberties Union as Treasurer. He is also a member of the Project Development Committee of the Law Firm Antiracism Alliance, a coalition of over 250 law firms collaborating to amplify the voices of communities and individuals oppressed by racism, to better use the law as a vehicle for change that benefits communities of color, and to promote racial equity in the law. He is part of the Legal Services Corporation's Emerging Leaders Council, a group composed of up-and-coming leaders working to raise awareness of the civil legal aid crisis in the United States and was selected as a member of the Leadership Council on Legal Diversity's 2021 class of Pathfinders, a program offering leadership and career development training for high-performing, up-and-coming attorneys.
Fast Facts
Practice Areas
Education
Columbia Law School, J.D. (2013)
The London School of Economics and Political Science, LL.M. (2012)
Columbia University, B.A. (2007)
Bar Admissions
State of New York
U.S. District Courts for the Southern and Eastern Districts of New York
United States Court of Appeals for the District of Columbia Circuit
Honors and Awards
Parker School Recognition of Achievement, Int'l & Comparative Law
Harlan Fiske Stone Scholar
Law Review and Publications
Staff Editor, Columbia Business Law Review
Co-author, Targeting Operations With Drone Technology: Humanitarian Law Implications, Human Rights Institute, Columbia Law School, March 2011
News + Insights