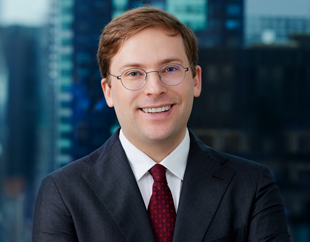 Scott
H.
Henney
New York
7 Times Square
New York, NY 10036-6516
Scott Henney is a litigator who focuses on complex commercial litigation and arbitration, including claims relating to breach of contract, breach of fiduciary duty, business torts, and other commercial disputes. He also has a significant appellate practice.
Prior to joining Friedman Kaplan, Scott served as a law clerk to the Honorable Cheryl L. Pollak of the U.S. District Court for the Eastern District of New York and to the Honorable Jenny Rivera of the New York State Court of Appeals. Scott was also an appellate counsel at the Center for Appellate Litigation where he briefed and argued over two dozen cases in New York's appellate courts, winning several cases involving issues of first impression. He also conducted an extensive investigation that led to a client's exoneration.
Representative Matters
Representation of a media and technology company in numerous disputes with the company's former lender and equity holder, including litigating breach of contract and related claims in Delaware Chancery Court as well as matters relating to a separate accounting arbitration dispute.
Representation of a top fixed-annuity provider in prosecuting a cross-border breach of fiduciary duty action alleging misappropriation and misuse of confidential information and property by former executives.
Representation of one of the largest global asset managers and its affiliates and subsidiaries in over a dozen federal and state cases, as plaintiff and defendant, involving life settlement investments.
Representation of a former physician on appeal in the U.S. Court of Appeals for the Sixth Circuit and on petition for certiorari to the U.S. Supreme Court challenging his conviction for unlawfully dispensing or distributing controlled substances in light of a 2022 U.S. Supreme Court ruling relating to the standard of proof for claims applicable to physicians brought under the Controlled Substances Act.
Outside the Office
Scott is a member of the Board of Directors of the New York County Lawyers Association (NYCLA) and also serves as co-chair of NYCLA's Appellate Courts Committee. He regularly serves as a volunteer judge for high school and college moot court competitions. Scott formerly served on the New York City Bar Association's Criminal Law Committee and ran the Center for Appellate Litigation's mock trial program through the New York State Bar Association.
Fast Facts
Education
University of Chicago Law School, J.D. (2017)
New York University, B.A., summa cum laude, Phi Beta Kappa (2012)
Bar Admissions
State of New York
U.S. District Courts for the Southern and Eastern Districts of New York
Clerkships
Honorable Cheryl L. Pollak, U.S. District Court for the Eastern District of New York
Honorable Jenny Rivera, New York State Court of Appeals
Law Review and Publications
Articles Editor, Chicago Journal of International Law
News + Insights