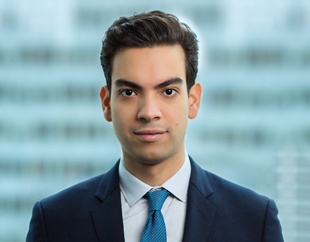 Geoffrey
Cajigas
New York
7 Times Square
New York, NY 10036-6516
Geoffrey Cajigas' practice focuses on complex commercial litigation. He represents a wide array of clients in the financial services and other industries in contract, securities, tortious interference, trade secret, and other disputes. Geoff also represents clients in connection with federal and state regulatory and white collar matters.
Representative Matters
Obtained the dismissal of a lawsuit asserting tortious interference and breach of contract claims brought by the former majority shareholder of a major international refiner, recycler, and manufacturer of metal products alleging that our client, the company's second largest shareholder, caused the failure of the majority shareholder's negotiations to restructure approximately €1.6 billion in indebtedness.

Representation of the Official Stanford Investors Committee ("OSIC") in long-running litigation arising out of R. Allen Stanford's Ponzi scheme, one of the largest financial frauds in U.S. history. Friedman Kaplan and co-counsel prosecuted investor and estate claims in Texas federal court against five banks for, among other things, aiding and abetting violations of the Texas Securities Act and knowing participation in Stanford's breach of fiduciary duty. OSIC's recovery of $1.6 billion in settlements follows years of vigorous litigation involving complex issues of U.S., Canadian, English, and Swiss law, extensive motion practice, and nearly a hundred fact and expert depositions in the U.S. and abroad.

Representation of a specialty financing company in a lawsuit asserting claims against its former finder and their principals for breach of contract, violation of the Defend Trade Secrets Act, misappropriation of confidential information, unfair competition, and tortious interference in connection with an agreement in which the finder had committed to identify and refer financing opportunities on an exclusive basis.
Representation of a financial industry professional in a FINRA arbitration, for which Geoff served as second chair, in pursuing claims for breach of fiduciary duty and fraud against a former partner.
Prior to joining Friedman Kaplan, Geoff was an associate at Sullivan & Cromwell LLP, where he focused on complex litigation matters in state and federal courts and in civil and criminal investigations. Specifically, his work included defending clients in securities actions in state and federal courts and assisting several large financial institutions and other clients in responding to various regulatory inquiries.
Fast Facts
Practice Areas
Education
Columbia Law School, J.D. (2011)
Yale University, B.A. (2008)
Bar Admissions
State of New York
U.S. District Court for the Southern District of New York
Honors and Awards
Harlan Fiske Stone Scholar (2009, 2010, 2011)
News + Insights