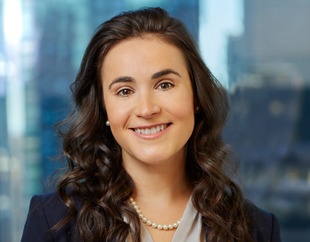 Blair
R.
Albom
New York
7 Times Square
New York, NY 10036-6516
Blair Albom's practice focuses on complex commercial litigation. She represents banks, major public and private companies, and individuals in connection with contract, creditor, insurance, and other disputes. Blair also represents clients in connection with white collar matters involving the SEC and other enforcement agencies.
Representative Matters
Representation of the New Jersey Economic Development Authority in connection with the year-long task force investigation being conducted by Governor Phil Murphy as well as an investigation by the New Jersey Attorney General.

Representation of U.S. Bank National Association in its capacity as indenture trustee of certain notes issued by Windstream Services, LLC in connection with litigation concerning an alleged default under the indenture. Blair and the firm litigated the matter through trial, with the court ultimately ruling in favor of U.S. Bank on all points, and finding that Windstream had in fact breached the indenture.

Representation of a major bank and brokerage firm in a dispute over purported termination of a distribution agreement by Goldman Sachs.
Representation of BioReference Laboratories in connection with contract litigation against Diaceutics, Inc.
Representation of a blood testing laboratory in defense of litigation brought by Horizon Blue Cross Blue Shield of New Jersey alleging improper billing for testing services. The matter includes a claim alleging violation of New Jersey's insurance fraud statute.
Representation of a pro bono client who had been barred from seeing his infant son. The Southern District of New York granted summary judgment in favor of Blair's client, and the matter is currently on appeal before the Second Circuit.

Representation of a private equity fund in connection with an SEC examination.
Prior to joining Friedman Kaplan, Blair was an associate at Debevoise & Plimpton LLP.
Outside the Office
Blair is a member of the Criminal Law Committee and the Mass Incarceration Task Force of the New York City Bar Association. She is also a member of the American Bar Association and the Federal Bar Council.
Fast Facts
Practice Areas
Education
Stanford Law School, J.D. (2010)
Brown University, B.A., magna cum laude, Phi Beta Kappa (2007)
Bar Admissions
State of New York
State of New Jersey
U.S. District Court for the Southern District of New York
U.S. District Court for the District of New Jersey
U.S. Court of Appeals for the Second and Fifth Circuits
Clerkships
The Honorable Kimba M. Wood, U.S. District Court for the Southern District of New York
Honors and Awards
Gerald Gunther Prize for Outstanding Performance in Family Law
Honors Recipient, Stanford Law Pro Bono Program
2016 Burton Award For Distinguished Legal Writing
Law Review and Publications
Editor, Stanford Law Review
Senior Notes Editor, Stanford Journal of International Law
Blair R. Albom, Rhianna Hoover et al., 'Getma International v. Republic of Guinea, United States Court of Appeals, District of Columbia Circuit, 16-7087, 07 July 2017,' A contribution by the ITA Board of Reporters, Kluwer Law International
"Corporate Responsibility for Human Rights Violations After Urbaser," International Bar Association Oil and Gas Law News (June 2017)
William H. Taft V, Blair R. Albom et al., 'Eisen v. Venulum Ltd., United States District Court, Western District of New York, 1:06-cv-00461, 27 March 2017,' A contribution by the ITA Board of Reporters, Kluwer Law International
Protecting The Attorney-Client Privilege In Foreign Investigations American Bar Association Section of Litigation's Criminal Litigation (July, 2015)
"The Year 2014 in Anti-Bribery Enforcement: New Records, New Trends, and New Complexity as Anti-Bribery Enforcement Truly Goes Global," FCPA Update, Debevoise & Plimpton (Vol. 6, No. 6, January 2015)
DOJ Officials Encourage Companies to Cooperate Against Potentially Culpable Individuals "Just Blogs" section of Main Justice (October, 2014)
"D.C. Circuit Upholds Privilege Protections in Compliance Investigations," FCPA Update, Debevoise & Plimpton (Vol. 5, No. 12, July 2014)