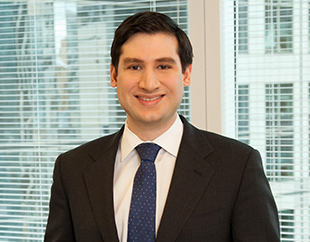 Alexander
D.
Levi
New York
7 Times Square
New York, NY 10036-6516
Alex Levi is a complex commercial litigator with a focus on contract, employment, and securities law matters as well as complicated partnership disputes and business divorces. He represents clients in the financial services, real estate, education, and other industries in high-stakes actions before federal and state courts and arbitral tribunals. His experience includes arguing summary judgment motions, motions to dismiss, and other motions in various forums.
Representative Matters
Representation of a client in the financial services industry in a multi-million dollar dispute with a former senior employee. Alex served as co-first chair for the arbitration hearing.
Representation of a large global financial institution in connection with multiple matters involving the enforcement of promissory notes issued to former employees.
Representation of a member and officer of a Delaware real estate company with over $1 billion in property under management in a complex dispute alleging breach of contract and fiduciary duty issues brought by another member.
Representation of a leading retirement services company in litigation over breaches of fiduciary duty, defamation, and other tort claims.
Representation of majority bondholders and indenture trustee as plaintiffs in Delaware Court of Chancery against a corporate issuer over the right of convertible noteholders to "put" over $60 million in notes to the company for par value in light of a corporate sale of assets comprising a fundamental change by the issuer.
Defense of ANA, Japan's largest airline, in litigation brought by a former supplier. All claims against ANA were dismissed, and ANA was awarded its attorney's fees and costs.
Representation of two former directors of a Cayman holding company established to hold the equity of a worldwide logistics company in defense of a breach of fiduciary duty and other claims brought under Cayman law by the bankruptcy trustee for the logistics company.
Representation of a global commercial real estate firm in connection with claims against a former employee for unfair competition, breach of contract, and expropriation of intellectual property.
Representation of a major law firm in defense of allegations of malpractice with respect to a commercial real estate transaction.
Representation of a global bank in litigation involving the payment rights of "liquidity providers" under an asset-backed security indenture.
Representation of an executive of a finance company in an action brought by the client's former employer alleging breach of fiduciary duty, misappropriation, and other related claims in connection with a move to a competing company.
Representation of T-Mobile USA, Inc. as plaintiff in connection with antitrust claims related to an alleged conspiracy to fix prices of LCD screens. The matter settled in a manner highly positive for the firm's clients.
Outside the Office
Alex serves as Secretary of the Board of Directors of Beach Point Yacht Club in Mamaroneck, New York. In addition to his secretarial responsibilities, Alex assists with event planning for the Club, including chartering two spectator boats for members to watch the 2016 America's Cup races and he formerly served as co-chair of the Sailing Committee.
Fast Facts
Practice Areas
Education
Harvard Law School, J.D., cum laude (2010)
Brown University, B.A., magna cum laude, Phi Beta Kappa (2007)
Bar Admissions
State of New York
U.S. District Courts for the Southern and Eastern Districts of New York
Law Review and Publications
Online Editor, Harvard Journal of Law & Technology
News + Insights
Presenter, Federal Rules of Civil Procedure: Recent Changes and Anticipated Amendments Webinar, Clear Law Institute

READ MORE