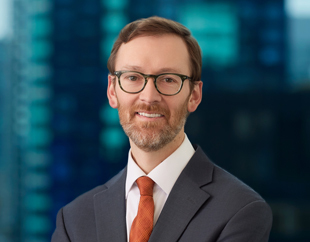 Timothy
M.
Haggerty
New York
7 Times Square
New York, NY 10036-6516
Tim Haggerty is an experienced litigator with a significant white collar defense and civil litigation practice.
Tim has defended senior executives, public and private companies, and institutions of higher education in investigations and enforcement matters brought by the Department of Justice, Securities and Exchange Commission, Commodity Futures Trading Commission, and state and local prosecutors. He has helped clients navigate and respond to allegations of securities fraud, insider trading, racketeering, violations of the Foreign Corrupt Practices Act, bribery, and tax law violations, among others, and his representations often involve cross-border considerations and collaboration with foreign co-counsel. Tim has conducted confidential internal investigations, and he has represented clients in some of the most high-profile matters in the nation.
Tim also has a broad civil litigation practice, including handling actions arising under the securities laws, business disputes, fraud, and general litigation matters, as well as counseling individuals and companies seeking to resolve disputes before they turn into litigation.
Tim has extensive experience handling a variety of matters involving institutions of higher education, including advising on governance, conducting internal investigations, responding to local, state, and federal inquiries, and litigation, including with respect to Title IX, employment matters, and the Family Educational Rights and Privacy Act (FERPA).
Because of the nature of Tim's work, many of his most successful matters have not resulted in public charges and remain confidential.
Representative Matters
Representation of the former Chief Financial Officer of Archegos Capital Management in a prosecution by the U.S. Attorney's Office for the Southern District of New York alleging a RICO conspiracy, securities fraud, and mail and wire fraud relating to the family office's 2021 collapse. Tim and the firm also represent the client in related SEC and CFTC enforcement actions and a civil case brought by a former Archegos employee.
Representation of the former longtime Chief Financial Officer of the Trump Organization in the highly publicized New York County District Attorney's investigation and prosecution of the Trump Corporation, Trump Payroll Corporation, and our client for tax violations. Tim and Friedman Kaplan represented the client throughout lengthy and

complicated investigations conducted by the DANY and at every stage of

the proceedings,

notably

achieving a unique plea deal and greatly reduced sentence for the firm's client in exchange for his truthful testimony at trial that resulted in the conviction of the Trump Organization in December 2022.
Representation of a prominent individual in connection with federal investigations and Congressional inquiries relating to conduct during the U.S. Presidential election in 2016.
Representation of a major financial services company in a five-month jury trial successfully defending against claims of racketeering, misappropriation of trade secrets, and unfair competition totaling $1 billion.
Regular representation of a prominent institution of higher education in connection with non-public matters, internal investigations, and responding to confidential state and federal inquiries.
Representation of asbestos trusts and claims processing facilities in numerous litigation matters, including the Manville Personal Injury Settlement Trust ("Manville Trust") in connection with a multi-million dollar claim by the post-bankruptcy successor of a Johns-Manville Corp. distributor, which sought indemnification for settlement payments it had made to approximately 5,000 asbestos health claimants between 2010 and 2017. Friedman Kaplan successfully persuaded the U.S. Bankruptcy Court for the Southern District of New York to rule in the Manville Trust's favor on every question of law presented and to dismiss the damages claims against the Manville Trust.
Representation of a leading international bank in federal court litigation arising out of employee fraud, and related insurance matters.
Representation of a high net worth individual in statutory and common law securities fraud claims against a major investment bank, through and including trial before FINRA.
Representation of an attorney in connection with discovery applications under 28 U.S.C. § 1782 seeking documents and deposition testimony for use in foreign proceedings, including for an environmental damages case on behalf of the people of Ecuador against Chevron.
Representation of a senior hedge fund analyst in connection with racketeering and other claims arising out of an alleged short-selling conspiracy. The claims against the firm's client were dismissed on summary judgment.
Representation of an attorney in connection with a disciplinary proceeding, which was resolved successfully with a finding of no actionable grievance.
Representation of a senior hedge fund executive in connection with a partnership dispute at his fund, which was resolved outside of litigation.
Tim also has an active pro bono practice. Some of his notable matters have included representing the Giffords Law Center to Prevent Gun Violence in various matters, including as amicus in opposition to an action challenging New Jersey's regulations banning large-capacity ammunition magazines, and representing a victim of Hurricane Sandy in litigation against her insurer arising out of the insurer's refusal to provide coverage for damage to the victim's manufactured home.
Prior to joining Friedman Kaplan, Tim practiced at Cleary Gottlieb Steen & Hamilton LLP.
Fast Facts
Practice Areas
Education
Rutgers University School of Law – Newark, J.D., high honors (2005)
Georgetown University, B.A. (2002)
Bar Admissions
State of New York
State of New Jersey
U.S. District Courts for the Southern District of New York and District of New Jersey
Honors and Awards
Legal Aid Society Pro Bono Award for Outstanding Service
Dean's Merit Scholar, Rutgers University School of Law
Order of the Coif, Rutgers University School of Law
Law Review and Publications
Senior Articles Editor, Rutgers Law Review
Editor-in-Chief, The Hoya
Insider Trading by Outsiders: Recent Cases Explore Deception Requirement Under Section 10(b), N.Y.L.J., Oct. 13, 2009
SEC Exploring the Boundaries of Insider-trading Enforcement, Nat'l L.J., July 13, 2009
American Pipe and Tolling for Individual Claims, N.Y.L.J., May 18, 2009
At Border, Laptops Are Open Books, Nat'l L.J., July 21, 2008
Under SLUSA, State Courts Lack Jurisdiction to Hear Class Actions Asserting Claims Under the Securities Act, Sec. Reg. & Law Rep. (BNA), June 25, 2007
Securities Act Class Action: SLUSA Nixes State Court Jurisdiction, N.Y.L.J., Nov. 29, 2006
News + Insights
Events