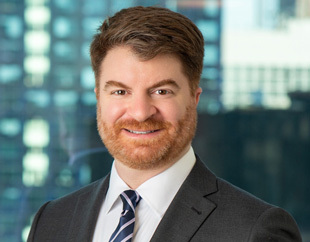 John
N.
Orsini
New York
7 Times Square
New York, NY 10036-6516
John Orsini advises and represents major public companies, private firms, and high-ranking executives in the financial services, technology, and other industries. He represents clients as plaintiffs and defendants in complex business and financial disputes in federal and state trial and appellate courts, and before FINRA, AAA, the ICC, and other arbitral tribunals. He has examined and cross-examined dozens of witnesses at trial and in hearings, and argued numerous motions.
His matters involve diverse issues and claims, including breach of contract, breach of fiduciary duty, securities fraud, and business divorces. He has represented a number of companies and individuals in connection with the movement among firms of high-producing financial services professionals and other employees, including in emergency hearings for immediate injunctive relief. He also regularly counsels clients pre-litigation concerning strengths and weaknesses of claims and defenses, and the resulting tactical path forward in difficult circumstances.
Representative Matters
Serving as trial counsel in a five-month New Jersey state court jury trial, one of the longest in the court's history, defending a prominent financial services company against billion-dollar claims of civil racketeering and unfair competition. The court dismissed plaintiff's civil racketeering claims after the close of evidence and the case settled favorably while the jury was deliberating.
Acting as trial counsel for one of the world's most prominent inter-dealer brokerage firms in eight consolidated FINRA arbitrations, defending against claims of "raiding," unfair competition, breach of non-competition and non-solicitation agreements, misappropriation of trade secrets, and other business torts. The merits hearings spanned over a year and a half, during which more than 70 witnesses were called to testify. The panel ultimately awarded plaintiffs a fraction of the damages they sought, and awarded significant damages to employees hired by the client.
Representing financial service professionals and their employers regarding post-termination restrictive covenants and misappropriation claims, and the forfeiture of vested incentive and carry rights. A recent example included an emergency preliminary evidentiary hearing in federal court, at the conclusion of which the court vacated a TRO previously entered against his clients, denied the former employer's motion for a preliminary injunction, and later affirmed both decisions on plaintiff's motion for reconsideration.
Defending current and former senior public company executives against class action claims of securities fraud and control person liability, including a recent successful motion to dismiss all securities fraud claims against his client and the defeat of class plaintiff's subsequent motion to amend the complaint to reinstate claims.
Representing an Ad Hoc Committee of First Lienholders in the Frontier Communications Corporation Chapter 11 Bankruptcy, opposing the debtors' proposed DIP financing that would have improperly primed our client group's liens.
Serving as appellate counsel in appeals to the Second and Third Circuit Courts of Appeal, and the First Department of the New York Appellate Division, in matters with questions concerning federal subject matter jurisdiction, the dismissal of securities fraud claims, compelling arbitration, and emergency interlocutory relief from discovery orders.
Representing the principals of a real estate investment firm in a breach of contract action asserting claims against a large hedge fund relating to the parties' agreement to release each other from legal claims relating to potential transactions with another party.
Asserting claims to recover unpaid compensation and severance in a FINRA arbitration on behalf of a former top ranking executive at one of the largest Wall Street investment banks.
Representing a major NYC-based operator of award winning restaurants in New York and elsewhere in disputes with landlords, including those arising from COVID-19 related closures.
Representing a leading independent investment bank in fee disputes and other matters.
Litigating lease termination, use, and construction disputes on behalf of leading commercial landlord and varied commercial tenants.
Representing a well-known toy inventor in litigation over restrictive covenants that were terms of his sale of his company to a leading toy manufacturer.
Representing the domestic broker-dealer of a global investment bank in contract and other commercial disputes.
Bringing securities fraud and negligence claims on behalf of hedge funds to recover $116 million in losses from Madoff feeder funds' management and their accountants.
Representing and counseling a leading provider of cloud-based enterprise database hosting environments in contract disputes.
Fast Facts
Practice Areas
Education
Harvard Law School, J.D., cum laude (2002)
Harvard College, A.B., magna cum laude (1998)
Bar Admissions
State of New York
U.S. District Courts for the Southern and Eastern Districts of New York
U.S. Courts of Appeals for the Second and Third Circuits
U.S. Supreme Court
Clerkships
The Honorable Maryanne Trump Barry, U.S. Court of Appeals for the Third Circuit
Honors and Awards
New York Super Lawyers List, 2013-2015, 2020-present
Law Review and Publications
Senior Editor, Harvard Civil Rights-Civil Liberties Law Review
News + Insights